Several years ago I gave my spurs to my eldest daughter, Amy.  They are special to me because of the memories attached to them, so I wouldn't give them to just anyone.  But because she is particularly sentimental I knew she would treasure them.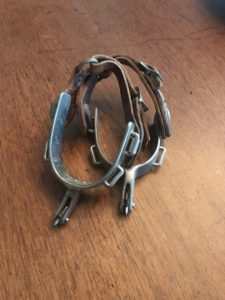 Sure enough, in a recent visit to her home, in Kansas City, MO, I noticed that she had the spurs on display.  They were hanging on the wall in her dining room, along with other things that reflect her flair for the eclectic.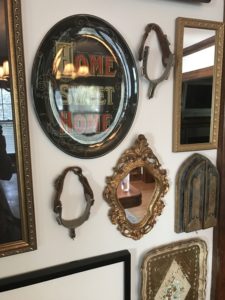 Having worn the spurs only three times in my life you might wonder what made them so special.  Moreover, I only utilized them for their intended purpose for a grand total of… mmm… I'd estimate 14 seconds.  That purpose, namely keeping one's legs down and around a bucking bull, is what gives the associated memories such value.
They are bull riding spurs – specially designed with rowels that cant inward to afford a better grip.  A nuance that is, in most cases, of little help.  And, in my case was NO damn help at all.
I was 16 years old when my dad bought the spurs for me, along with a manila "bull-rope" specially braided with a loop in one end and a "grip" for the rider's hand.  The rope is passed around the bull's chest with the end passed through the loop and returned to the rider's open fist where it is cinched tight and secured with a few wraps around the rider's gloved hand.
In addition to the spurs and the rope, we bought a big copper cowbell.  Tied to the middle of the rope, it's only intended purpose was to bother an already easily aggravated bull.
Side note: The man at the cash register that Saturday afternoon was none other than old man Harry Shepler himself.  It was a few years after he had built a new store and moved to West Kellogg in Wichita, and just a few years before he was bought out by the man that turned it into Shepler's, the multi-store chain it is today.
From Left to Right: Gene Galloup, Harry Shepler,
Francis Shepler, Mary (Shepler) Butz.
Harry Shepler Saddle and Leather Co.
452 N. Main, Wichita, KS 1948.
The Harry Shepler Saddle and Leather store on Main St. had been one of my favorite places.  I would go with dad when we needed some odd bit of tack for the horses or, before we had horses, anytime dad might have need for a bit of leather for some project or another. He knew my answer would be yes whenever he said, "I'm headed over to Shepler's, wanna come along?"  I loved the smell of saddle leather.  I still do.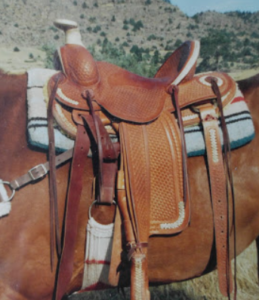 This seems like a good place to show
off my saddle.  I made it in about 1995.

Leaving Shepler's, filled with nervous anticipation and a shiny new pair of sure-nuf bull spurs, I had no way of knowing my bull riding career would last for 32 years.  That's right, from the age of 16 to 48, I rode bulls… three of 'em.  One every 16 years; at the ages of 16, 32, and 48.  Why?  Who knows.  Maybe my astrological sun, moon or rising aligns with Taurus (the bull) every 16 years.
I never anticipated any of my bull rides.  They just happened.  They happened because I couldn't say no to a dare.  The first dare came from my dad.
"Mike, you've always wanted to be a cowboy," he said as he looked up from the Wichita Eagle.  "Here's your chance to ride a buckin' bronco. The Little Britches Rodeo is coming to town."
That got my attention. As I looked over his shoulder at the newspaper he was reading, he continued, "Look. They've got bull riding too.  I'll tell you what.  I'll pay your entry fee if you'll ride a bull."
The National Little Britches Rodeo Association was founded in 1952 to produce rodeos for kids aged 5 to 18.  Usually, they set up their annual events in established arenas; but, their 1963 rodeo in Wichita was a portable arena set up at Sports Center Kiddieland.  No longer in existence, it was located in the 4200 block of East Harry Street.  In addition to amusement rides, a skating rink and large public swimming pool, there was enough empty room for a temporary rodeo arena.
Being a rodeo for youth you might imagine that the bulls being ridden were not fully grown either.  You'd be wrong. The only restriction stock contractors are given by the association is that there will be no "head fighting" bulls and the horns must be "tipped" – no pointy horned bulls.
I'll never forget the "what the hell have I gotten myself into" feeling I had when Dad and I, along with my younger brother, David, went the day before the rodeo to sign me up and pay the entry fee.  The bulls inside the temporary arena eating hay were enormous.
We signed up for two events.  I rode in the bareback event on Saturday evening and the bull riding was the last event of the rodeo on Sunday.  I actually stayed on the bull longer than I had the horse – by maybe two seconds.  But, there is a time-warp on the back of a bull.  Those few seconds were crammed with individuated moments.
The shiny new spurs were no help at all in keeping my legs down and hooked into that bull's shoulders.  My boots were flying high with every bucking jump of the bull and when they came down on the same side I began to do my best to get away from that bull. Pulling my hand free on the last jump I was flopped over the bull, head and shoulders hanging on one side, legs and feet on the other.  I hit the ground on hands and knees scrambling for the fence.
There is no greater sense of relief than being safely on the other side of the fence from your first bull.  And, then a euphoria flushes through your body.  A mixture of relief, pride and adrenaline that is only ever experienced by the brave.  I couldn't wait to do it again.
When the rodeo returned the next year, it was held in the arena of a riding club somewhere north of Wichita.  Once again I had signed up for both events, riding the "bareback bronc" first, but I never made it to the bull.  As I came off the back of the bucking horse, doing a complete back flip in the process, he must have kicked me squarely in the "funny bone" of my right elbow.
I know that because when I picked myself up out of the dirt, and spit the manure out of my mouth, I couldn't feel my arm.  It was completely numb from my shoulder to the fingers of my right hand.
The right sleeve of my shirt had been ripped off and, though I didn't know it immediately, I was bleeding from my elbow.  I remember hearing the announcer say something to the crowd like "Let's give a big hand to the tough, little cowboy from Wichita," as I walked toward the chutes, and the waiting team at the first aid station, holding what I was just sure was a severed arm.
The wound healed and the feeling came back into my arm within a day or two; but, for a couple of weeks I had no feeling in the fingers of my right hand.  To this day, hitting my right funny bone sends a nerve shock down my forearm and puts the two fingers furthest from my thumb to sleep for several minutes.
That, I thought, was the end of my very short rodeo career – until 16 years later.
At age 32, married with three kids and living on a small farm in southeastern Kansas, I owned a small manufacturing business.  The product was large portable "fattening floors" for the confinement feeding of pigs.  Without going into too much description, they were 12 ft. wide, 36 ft. long, two feet above the ground on skidded frames, decked with lumber and made to hold 50 pigs until they were hogs ready for market.  It was a good business until the farming crisis caused by high interest rates in the late '70's.
I had a half-dozen employees, most of whom were "country boys." One day during their lunch break I overheard them discussing the upcoming rodeo in nearby Fredonia, Kansas.  One was daring another to ride a bull.  Of course I had to butt in and say, "There ain't nothing to it.  I rode one when I was sixteen."
"Bet you wouldn't ride another one," one of them said.  That sounded to me like a dare, so I shot back, "Why don't you pay my entry fee and find out?"  A fund was immediately collected to cover the cost of the boss's demise.
In some rodeos, chutes are drawn to decide a rider's fate. While in others, specific bulls are drawn. The night of the Fredonia rodeo soon arrived, my fee was paid and I drew chute number three.
I felt lucky as they loaded bulls into the five chutes because the one with the big red number three on the gate didn't look nearly as big and mean as the bull in chute number two.  Incredulously I watched as they raised the sliding dividers between chutes and moved each bull up one.  Now, big ol' nasty was waiting for me in chute number three.
The arena announcer was readying the crowd for the next event, making jokes with the rodeo clown as I climbed up on the catwalk behind chute number three.  A boy that looked to be about 13 or 14 approached me.  I was surprised by his youth; but, with what looked like a bit of "chew" under his lip, jeans tucked in his boots, and a hat shaped right, he looked like a "hand."  I guessed maybe he was the stock contractor's boy when he asked, "Mister, do you need any help?"
I wryly answered with a grin, "Son, I rode my first bull 16 years ago." And, then pausing a moment for dramatic effect, I added, "And, this is my second one."
He got the joke, cocked his head and asked me, "How old are ya now?"
"I'm thirty-two," I replied.  And in that split second it dawned on me that I was twice as old as when I had ridden the first bull.  "I guess I ride a bull every sixteen years… whether I need to or not."
The kid helped me "pull my rope," and I climbed down on top of 2,000 lbs of hot, heaving bull for the second time in my life.
I raised my left hand, my right being tightly bound to the bull, and nodded my head – the signal for all hell to break loose.
The ride was over before it began.  As big as he was, this bull twisted out of the chute faster than a cat on fire and slammed me to the ground right in front of the gate.
As I climbed the back of the chute to safety, I spotted the kid sitting nearby on a fence panel.  "Hey mister," he hollered, "I'll see you when you're forty-eight."  His humor was just as wry as mine.
I told that story for years.  I guess I'm telling it now. But 16 years later, telling it would bite me in the ass.
What would one call a 16 year period of time?  A decade is a period of ten years; and, I've learned there are other words for different spans of years.  A biennium is 2 years, a triennium is 3 years, a quadrennium is 4 years, a lustrum is 5 years, a century is 100 years, and a millennium is 1,000 years.  I guess I'm going to call 16 years a "bullennium."
I've lived in the country – as we say when one does not live in town – several times in my life, but by no means continually.  In fact, I began my third bullennium living on a small farm. I ended the bullennium living on a small ranch near Ault, Colorado.
My life changes in the meantime were too numerous to mention in the context of this story.  Suffice it to say, and the point I want to make is, that I was not continuously in a position to be dared into another rodeo, that is… until I was.
As I approached the summer of my 49th year (being 48 years old), I was living near Ault, Colorado on 57 acres.  My third wife, Kayce, and I had shared a love of horses; and, in fact, our first date had been to ride together in Horsetooth Park just west of Fort Collins.  Her dad, Max, had uncharacteristically loaned me the use of his prized gelding, Rio, for the occasion.
Kayce's was a ranching family from Montana.  Max had given up ranching after losing most of his herd to a viciously cold winter near Miles City and moved his family to Colorado.  His acreage was adjacent to ours.
Max's nephew (Kayce's cousin), Rod, had lost his ranch manager's job in Montana; and, with no good job prospects, he was making his living training roping horses.  Knowing the market for horses was bigger in Colorado than in Montana, I invited him to move his wife and new baby, along with his remuda, to our place.  We bought a used mobile home, remodeled it for them a place to live and, together, Rod and I built a pipe fenced arena and enough new corrals for his livestock.
Just north of the Colorado/Wyoming border, within sight of I-25, there was (and still is) a dude ranch called the Terry Bison Ranch. It's a place where tourists can go to get a taste of cowboy culture.  That includes horseback rides on the prairie, a train ride into a herd of buffalo and, in the summer months, a real life rodeo.
The contestants at the rodeo, which took place on Tuesday and Wednesday evenings, were mostly local cowboys and included the timed events (steer roping, barrel racing, etc.) as well as the rough stock events (saddle and bareback broncs and bull riding).
Rod had been roping steers each week in the rodeo and having heard my bull riding story, and knowing that I was now 48, he said to me one afternoon, "You know, they got bull ridin' up there at the Terry rodeo.  And, they've got two classes, amateur and pro."
I acknowledged with a nod and an "Oh… they do huh?"
With a big shit eatin' grin on his face that was almost a laugh he continued, "Yeah, they do.  Which one do you want me to sign you up for?"
Now, this is when I lost what shred of common sense I might have gained after 48 years of living and said, "Well… you know I've been ridin' bulls for 32 years so I guess you better sign me up for the pros."
Luckily, I still had my spurs and bull rope; and, even though they were 32 years old, they were in nearly new condition – only having been used twice.
On the night of the rodeo, I had quite an entourage.  My wife (third) was there. So was her cousin Rod, his wife, my uncle Richard and aunt Nancy (who were living in Fort Collins at the time) as well as my youngest son from marriage number one, and my two youngest daughters, Mica and Megan, from marriage number two. (Yes… my marriages have numbers).
Unlike the rodeos I'd been in before, at this rodeo, riders drew for bulls, not chutes, and I drew a bull by the name of Tony the Tiger.  As Rod and I waited behind the chutes for my turn, one of the local cowboys asked me which bull I had drawn.  "Tony the Tiger," I replied.
My already racing heart shifted to overdrive when he said "Oh shit.  He likes to roll 'em in the dirt."  Then he pointed into the corral behind us and said, "He's that brindle muley right over there."
I knew exactly the kind of bull this guy was describing.  Remember what I said above about head fighting bulls not being allowed in the Little Britches Rodeos?  Tony the Tiger was that kind of bull.  While some bulls couldn't care less about the rider once he's thrown him off his back, there are others for whom the fun has just begun.  They want to get even.  You rode me. Now, I'm gonna ride you.
A more reasonable person would have taken this new information and headed for the parking lot.  But, I wasn't that person.  Not yet.  I had more to learn; and, I was just about to learn it.
There were 22 riders in the pro division that night and I was number 21 to ride.  Only three riders had made it to the 8 second buzzer, qualifying for a score, when I settled down into the chute with a leg on either side of that big, brindle striped bull named Tony the Tiger.
Rod was there to pull my rope tight and wrap my hand, and as he did he kept telling me to "Watch his head, watch his head and turn with him." The advice was rooted in the fact that the last bull I had ridden, the half-second ride in Fredonia, had turned out without me.  He had turned and I hadn't.  Now, I knew I had to turn too; but, Rod was reminding me nonetheless.
I nodded, the gate sprang open, 2,000 pounds of raging bull made a hard left turn, and I stayed with him.  He bucked straight out into the arena. No twists, no turns, none of the flopping like a fish out of water like the high ranking championship bulls do.  Any other bull rider would have been disappointed in this bull's performance because half of a rider's score depends upon it.  The rider is judged, but so is the bull.
As for me… fuck the score… I was just trying to hang on.  And, hang on I did.  All the way to the 8 second buzzer, and then… Tony stopped.  I think he heard the buzzer too.  Like Pavlov's dog I think Tony was conditioned to react to the buzzer.  But, instead of a food treat Tony was used to having a dismounted cowboy to chase, and maul if he could.
Like I've said, and Einstein's math proved, time is relative.  The second or two that Tony stood still in the middle of the arena was long enough for me to have a thought… a question that had just barely formed when Tony answered it for me.
The thought?  How do I get off?  Yeah.  I had never had to think about it before.  The only times I had been mounted on a motionless bull was at the beginning of the ride, while the bull was restrained in the confines of a buckin' chute.
As I've looked back, there were two more thoughts, or rather impressions, that I had… just before I lost consciousness – one was of my hat coming off, and the next was of being fully extended from my right hand, to the left, like a human flag.  That last image is confirmed in one of the photo's Rod took as I rode out across the arena.
Then I was being lifted up from the dirt by my uncle Richard and Rod.  As I limped across the arena, with their arms under mine, I heard the announcer say I'd gotten a 65.  A lousy score for sure, but a score.  And, one of only four for the day.
As I assessed my injuries, I discovered that I could stick my tongue through my upper lip.  The ultimate head butt is probably a bull head butt; and, that is what must have happened.  His head to my face.  The wonder is that I didn't lose teeth.
Richard drove me to the hospital emergency room in Cheyenne.  I remembered a childhood injury in which my forehead got in the way of a half of a brick being used in a game of keep-a-way. I asked for a plastic surgeon.  I meant no offense to the doctor on duty there in Cheyenne; but, it was just such a doc who had sewn me up when my dad arrived all those years ago and made them do it over again.  It's thanks to him that I don't have a large scar on my forehead.
No offense was taken by the doctor on duty, and even though it was by this time very late at night, a surgeon came to the hospital and did such a good job that, other than a kind of a one-sided smile, my face is as unscarred and handsome as ever.
So, did I ride another bull after the next bullenium, which would have been six years ago, when I was 64.  Hell no I didn't!  That would have been really dumb. Instead, I married her. (Yes.  Kili was born in May.  A Taurus)